Samsung Windfree 1.5 Ton Inverter Air Conditioner AR18NSP
class="tit" style="text-align: center;">Enjoy a good night?s
sleep
Samsung WindFree Good Sleep mode
Good Sleep mode with Samsung WindFree Cooling creates the ideal climate for a good night?s sleep ? without cold air flow. Its temperature control with Wind-Free cooling helps you fall asleep fast, sleep deeply, and wake refreshed.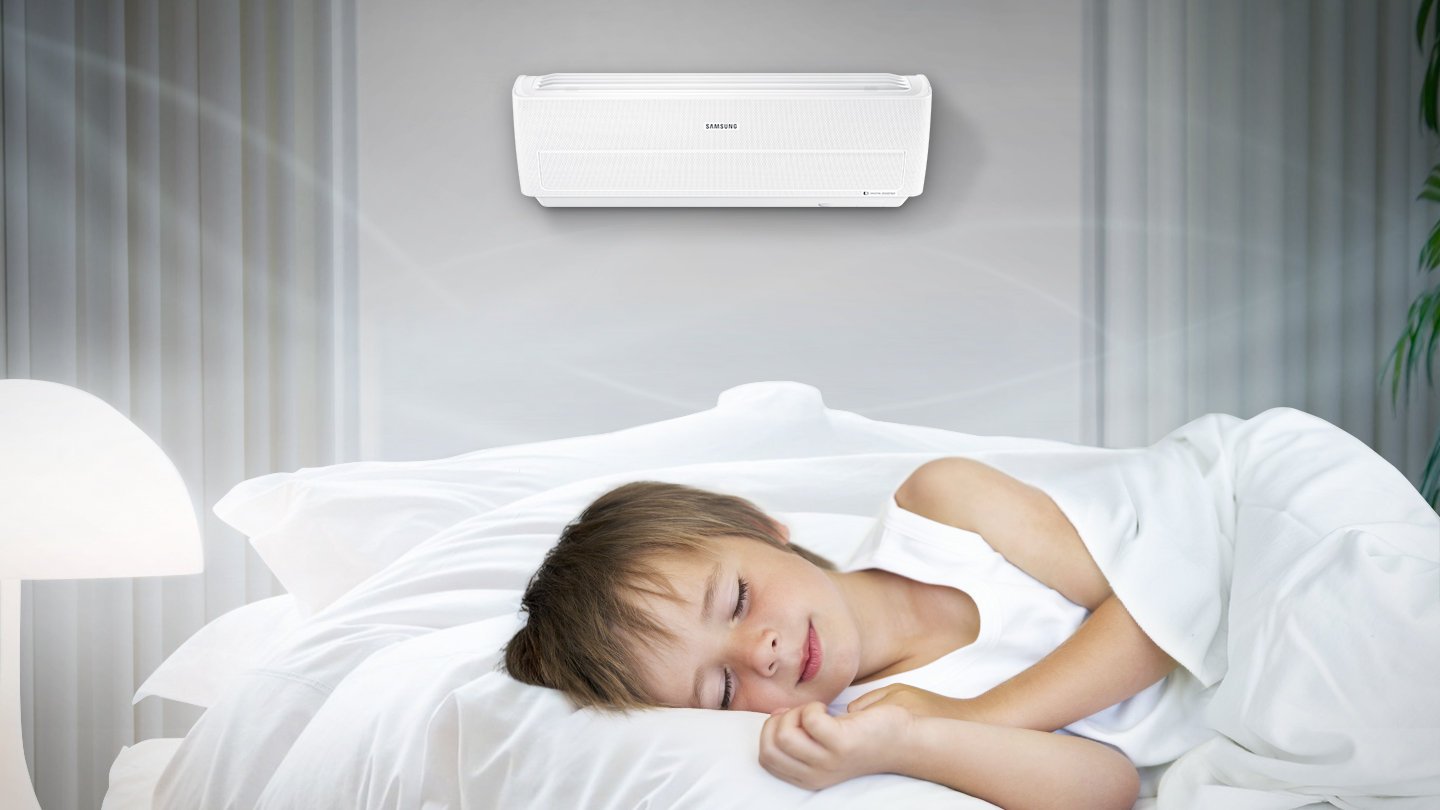 Get Cool Fast,
Stay Cool without Direct
Wind
Samsung WindFree Cooling effectively maintains a comfortable level of coolness without the unpleasant feeling of cold wind. Cool air is gently dispersed through 21,000 micro air holes, so you don?t feel too hot or cold.
Saves energy
Digital Inverter 8-Pole
A Digital Inverter 8-Pole consumes only 32% of the energy used by conventional models*. It maintains the desired temperature without frequently turning off and on, so it?s much quieter, more durable and efficient.
Cools you down faster
Fast cooling
Quickly cools from corner to corner, so you?re always comfortable wherever you are. Digital Inverter 8-Pole technology cools the air 43% faster* and a triangular architecture disperses cool air farther and wider**.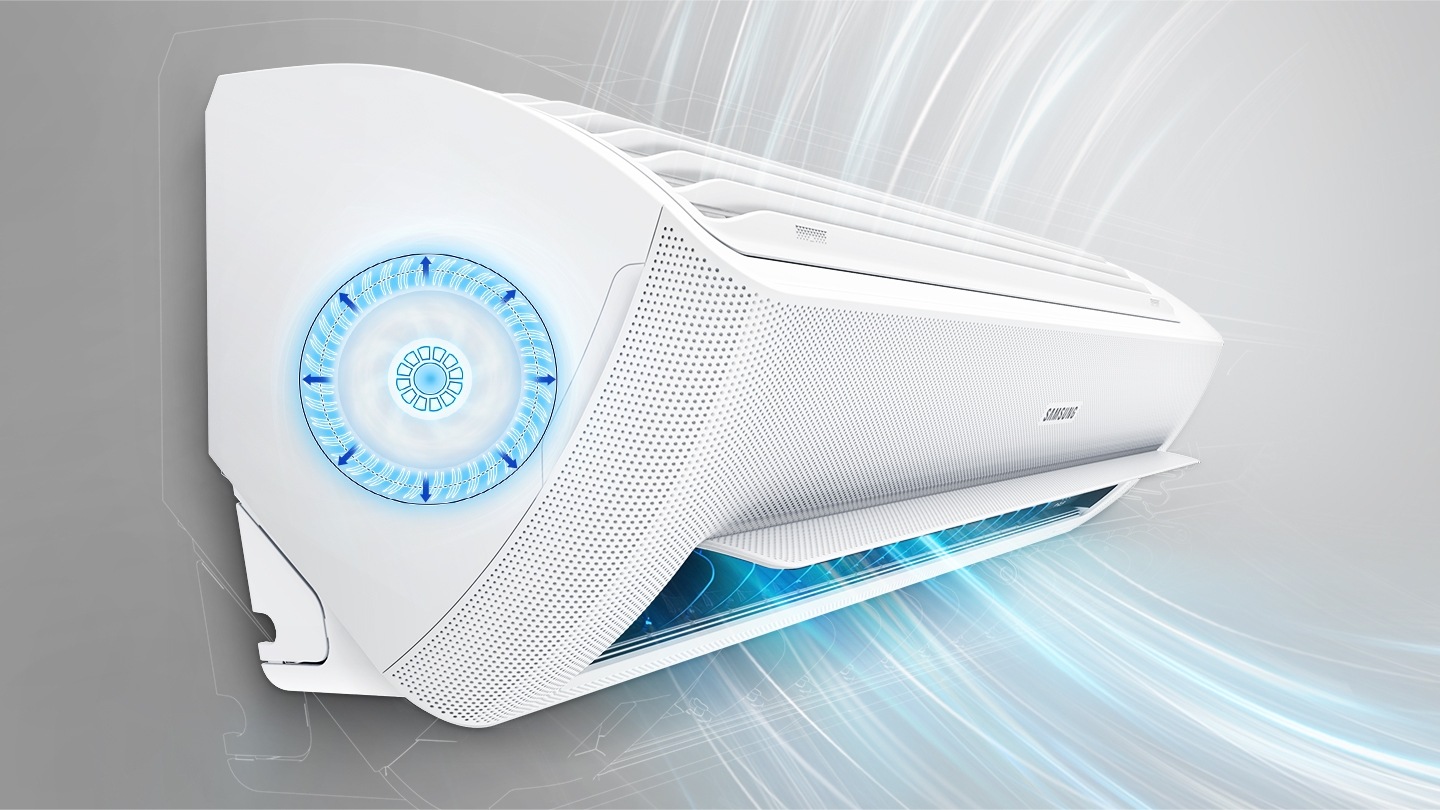 Control it anytime
& anywhere*
Wi-Fi Control using a Smart Home App
With the Wi-Fi Control using a Smart Home App* you can remotely control the functions and schedule its operation. It also gives you live feedback about how it?s operating and lets you monitor and limit power usage.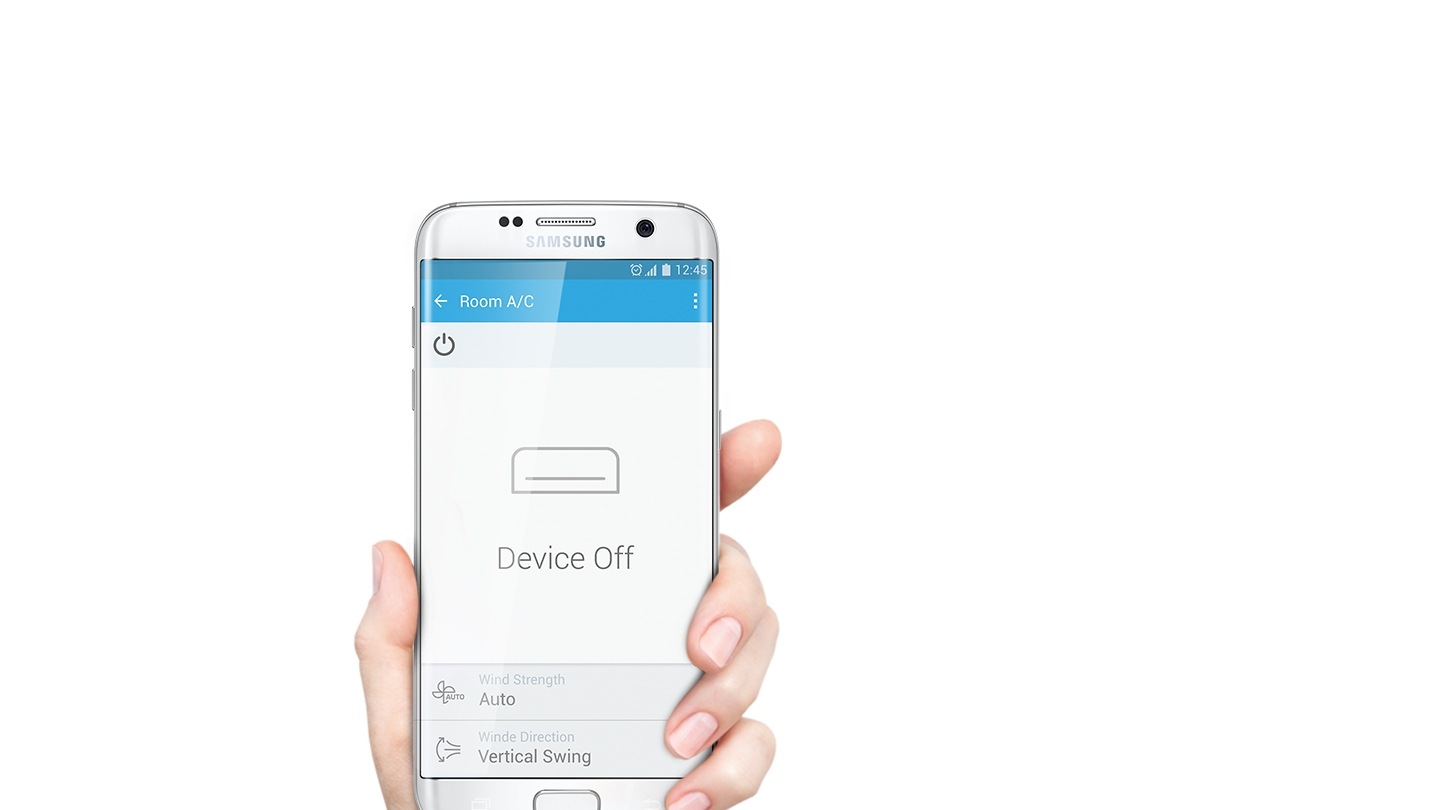 * Available on iPhones and Android devices. A network connection is required.
Keeps comfortable
without changing
settings
Wind-Free 2-Step Cooling mode
The 2-Step Cooling mode cools the air fast in Fast Cooling mode, then automatically changes to Wind-Free mode to maintain the temperature. So you stay comfortable, without cold spots, and don?t need to change settings.
Reduces harmful viruses
Filtration System
Keeps the air you breathe pure and healthy. A Easy Filter captures dust, dangerous contaminants and allergens*. And Ionizer reduces certain harmful viruses and bacteria by up to 99%**.
Quick &?
easy to?
clean filter
Easy Filter Plus
The Easy Filter Plus is located outside, on the top, so it can easily be taken out, cleaned and put back ? without opening a cover. And its anti-bacterial coating filters dust, airborne contaminants and allergens*.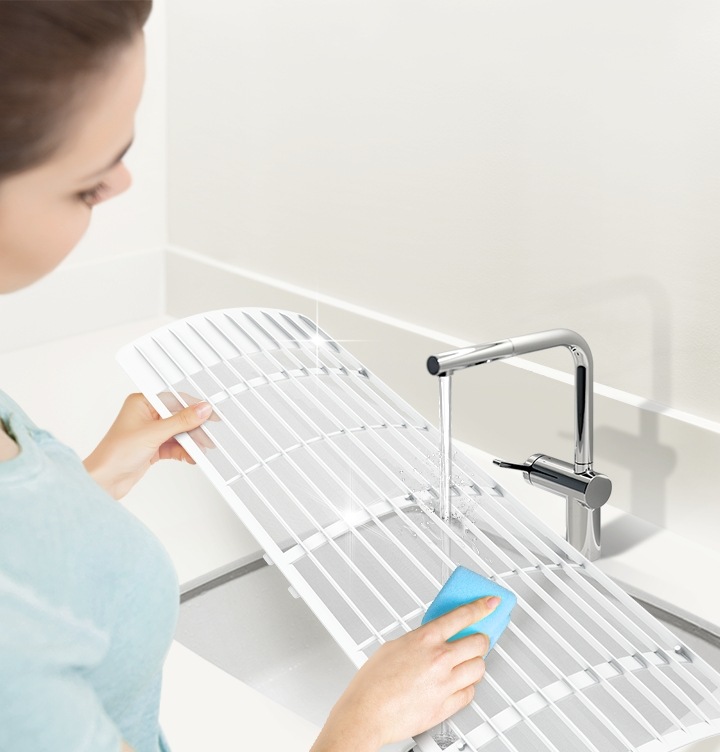 Stable,
long-lasting
performance
Triple Protector Plus
Keeps going in the most challenging environments with Triple Protector Plus technology. It prevents overloads, without a separate voltage stabilizer*, has an anti-corrosion coating, and can endure harsh conditions.
Specifications:
Capacity

Capacity (Cooling, Btu/hr)

18000 Btu/hr

Capacity (Heating, Btu/hr)

20500 Btu/hr

Capacity (Cooling, Min – Max, Btu/hr)

5500~20500 Btu/hr

Capacity (Heating, Min – Max, Btu/hr)

4000~24500 Btu/hr

Capacity (Cooling, kW)

5.28 kW

Capacity (Heating, kW)

6.01 kW

Capacity (Cooling, Min – Max, kW)

1.61~6.01 kW

Capacity (Heating, Min – Max, kW)

1.17~7.18 kW

Energy Efficiency

EER (Cooling, W/W)

3.21 W/W

COP (Heating, W/W)

3.43 W/W

EER (Cooling, Btu/hW)

10.94 Btu/hW

COP (Heating, Btu/hW)

11.71 Btu/hW

Noise Level

Noise Level (Indoor, High/Low, dBA)

41/25 dBA

Noise Level (Outdoor, High/Low, dBA)

51 dBA

Electrical Data

Power Source(?/V/Hz)

1/50/220~240

Power Consumption(Cooling, W)

1645 W

Power Consumption(Heating, W)

1750 W

Operating Current(Cooling, A)

7.6 A

Operating Current(Heating, A)

7.9 A

Physical specification

Gross Dimension (Indoor, WxHxD, ?*?*?)

1130*374*384 mm

Gross Dimension (Outdoor, WxHxD, ?*?*?)

1023*724*413 mm

Net Dimension (Indoor, WxHxD, ?*?*?)

1065*301*311 mm

Net Dimension (Outdoor, WxHxD, ?*?*?)

880*638*310 mm

Gross Weight (Indoor, kg)

16.3 kg

Gross Weight (Outdoor, kg)

43.2 kg

Net Weight (Indoor, kg)

13.2 kg

Net Weight (Outdoor, kg)

40.2 kg

Loading Quantity (20/40/40Hft without Pipe)

58/123/143

Technical Information

Piping Length (Max, m)

30 m

Piping Height (Max, m)

15 m

SVC Valve (Liquid (ODxL))

6.35

SVC Valve (Gas (ODxL))

12.7

Moisture Removal (l/hr)

2.0 l/hr

Air Circulation (Cooling, ?/min)

15.9 ?/min

Refrigerant (Type)

R410A

Refrigerant (Charging, kg)

1.3 kg

Low Ambient (Cooling, ?)

-10~52 ?

Low Ambient (Heating, ?)

-15~24 ?

Outdoor Unit (Compressor Type)

BLDC ROTARY

Outdoor Unit (Anti-Corrosion Fin)

Yes

Air Flow

Optimal Single Blade

Yes

Air Direction Control (Up/Down)

Auto

Air Direction Control (Left/Right)

Auto

Air Flow Control Step (Cool/Fan)

5/4

Air Purification

Ionizer

Yes

Allergy Care

Yes

Anti-Bacteria

Yes

Auto Clean (Self Cleaning)

Yes

Easy Filter Plus

Yes

Convenience

Smart wifi

Yes

Filter Cleaning Indicatior

Yes

Indoor Temp. Display

Yes

Display On/Off

Yes

Beep On/Off

Yes

24-Hour Timer

Yes

Auto Changeover

Yes

Auto Restart

Yes

Operating Mode

2 Step Cooling

Yes

Fast Cool

Yes

Comfort Cool

Yes

Good Sleep

Yes

Single User Mode

Yes

Dehumidification

Yes

Fan Mode

Yes

Quiet?

Yes