Contents
I.     Product lineup
II.   Features of Outdoor unit
III. Features of Indoor unit
IV. Control
Product lineup
Capacity (Btu/h)
18k
24k
36k
48k 3Ph
Outdoor Unit
8-way Cassette
Ecostar Cassette Inverter Heat & Cool Models

1
EK-18IH01 (18000 BTU)
1.5 TR
2
EK-24IH01 (24000 BTU)
2.0 TR
3
EK-48IH01 (48000 BTU) Double Fan
4.0 TR
Outdoor Units
1.Product LineUp
2. Features
Capacity
18k
24k
48k
60k
Compressor
GMCC
GMCC
GREE
GREE
Dimension  (mm)
800×286×530
890*320*670
940×368×1366
Features of Outdoor Units
Feature of Outdoor Units
1. High Efficiency
2. Convenient Installation
3. Quiet Operation
4. Precise Control
5. Protection & Reliable
1. High Efficiency
Equipped with high efficiency DC Inverter compressor and DC fan motor,advanced 180°sine wave vector driver, the system can be higher than 4.0 in SCOP so as to meet the European new energy efficiency standards.

0.5W Standby
Intelligent technology enables Ecostar products to cut energy consumption from normal 5W to 0.5W per hour when standby, which counts 90% ofsaving.
180° Sine Wave Control
Ecostar has the most advanced 180°sine wave DC inverter compressor drive  technology and active PFC technology make quieter and more economical  operation.

Optimized Pipeline Design
The refrigerant inlet and outlet are separated, to ensure the sub-cooling,  enhance the cooling capacity.

2. Convenient Installation
Long Piping
 Long piping design, the maximum pipe length can be up to 50m.
 If the connection pipe is too long, the cooling capacity would be decreased.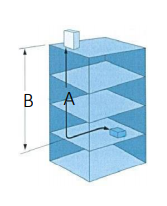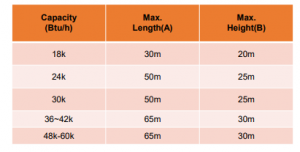 3. Quiet Operation
Quiet Motor and Fan
The advanced DC brushless motor for both indoor and outdoor unit, adjust
fan speed according to the system pressure and decrease the noise.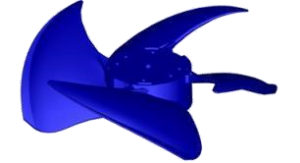 Muffler
The system using muffler to eliminate system noise.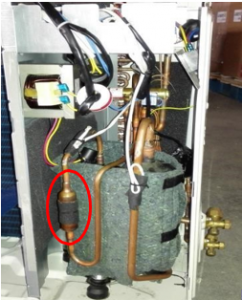 4. Precise Control
Fast Cooling & Heating
According to the heating effect of condenser (dirty, blocked, aging, poor
ventilation), the compressor can automatically calculate an appropriate rate
to the target frequency, ensure that the output capacity can achieve fast
cooling and Significantly improved the stability and comfort.

EXV Adjustment
According to the suction superheat and discharge superheat, the EXV is adjusting
the refrigerant volume accurately to ensure the capacity and reliability.
Supply stable room temperature and provide customer comfort feelings.

Reliable Oil Return
Unique oil separator, ensure the effect of oil return under the long pipe, and
low frequency.

Intelligent Defrost
 The defrosting times and time can be adjusted automatically according to the environment temperature, the defrosting time decrease 25%.
 The intelligent defrost function enhances heating efficiency by 10%.

5. Protection and Reliable
Wide Operation Range
No matter when it is as high as 52℃ in hot summer or -15℃ in cold winter, the  unit could operate perfectly, making you feel like spring all year around.
Cooling range: -10~52℃
Heating range:-15~24℃

Double anti-corrosion
The housing of outdoor unit is made of galvanized metal, then enhance its corrosion resistance through the powder spraying technology, which can  improve its anti-corrosion ability 3 times in coastal regions.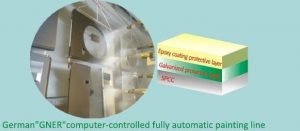 Stress Analysis
Analysis piping stress distribution in transportation and running process,
improve the reliability of the structure.

The amplitude Analysis
Analysis piping amplitude and displacement in transportation and running process, to find piping vibration patterns and come to solutions.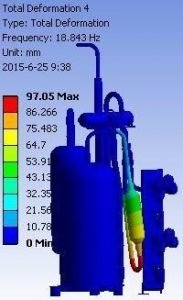 System Protection
Discharge temperature too high protection
Condenser temperature too high protection
High and low pressure protection
Temperature sensor protection
Compressor overloading protection
Phase sequence protection
Communication failure protection
Anti-freezing protection
Anti-cold air protection
Drive Module Protection
High power consumption
protection
Overcurrent protection
Over temperature protection
High or low voltage protection
Indoor Units
1. Functions of Indoor Units
2. 8-way Cassete
Function of Indoor Units
Auto-restart Function
Recover the former operation state when power is restored , no need
restart the unit manually.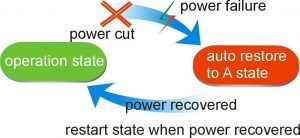 Recover the former operation state when power is restored.
Indoor High Temp. Protection
Recover the former operation state when power is restored , no need
restart the unit manually.
If Tm ≥ 60℃ stop compressor;'
Tm<41℃ Quit protection
Indoor Units
8-way Cassette
Capacity range: 18-60kBtu/h
Fresh Air Intake
Innovative 3D spiral wind Leaf
Digital tube displayer
Water pump with 1200mm water head is standard
Standard Washable Filter
Remote control is standard
2.Eight-Way Cassette
Product Lineup
Capacity
18k
24k
30k
36k
42k
48k(3ph)
60k(3ph)
Appearance
Dimension  (mm)

570×570×260

835×835×250

835×835×290
| | | | | | | | |
| --- | --- | --- | --- | --- | --- | --- | --- |
| Air Flow(m3/h) | 700/600/530 | 1300/1050/950 | 1400/1150/1000 | 1800/1550/1350 | 1800/1550/1350 | 2050/1750/1500 | 2050/1750/1500 |
| Noise(dB(A)) | 46/44/36 | 47/43/38 | 48/44/39 | 51/48/45 | 51/48/45 | 53/48/42 | 53/48/42 |
Fire-Proof Electric Box
Integrated electric control box, the E-box is safely covered by
metal plate, for better fire-resistance.
It is easy to repair the control part.

Built-in Drainage Pump
The built-in pump can lift condensing water up to 1200mm high
from the drainage pan.

Panel
| | | |
| --- | --- | --- |
| Ecostar Model | Capacity | Panel Model |
| EK-18IH01 | 1.5 Ton | EK-03 |
| EK-24IH01 | 2.0 Ton | EK-03 |
| EK-48IH01 | 4.0 Ton | EK-05 |
Digital Tube Display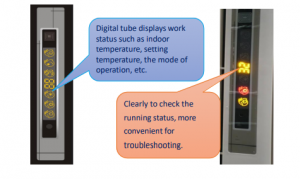 Control
Remote/Wired controller
Remote controller is standard for 8-way Cassette.
Wired controller is optional for 8-way Cassette.
Remote/Wired controller
Ecostar AC equipped with WIFI Control technology, customers can enjoy fun and convenience of remote control via mobile phones and other mobile terminals (Android and IOS) to control the AC at anytime and anywhere.

Central controller
Central controller, up to 64 units can be controlled.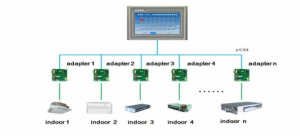 Monitoring System
Monitoring operating parameters of Indoor and Outdoor unit
Running state of Each part, debugging and control
Online diagnosis, convenient for troubleshooting
Process control: Defrost, oil return