Touch-free. Mess-free.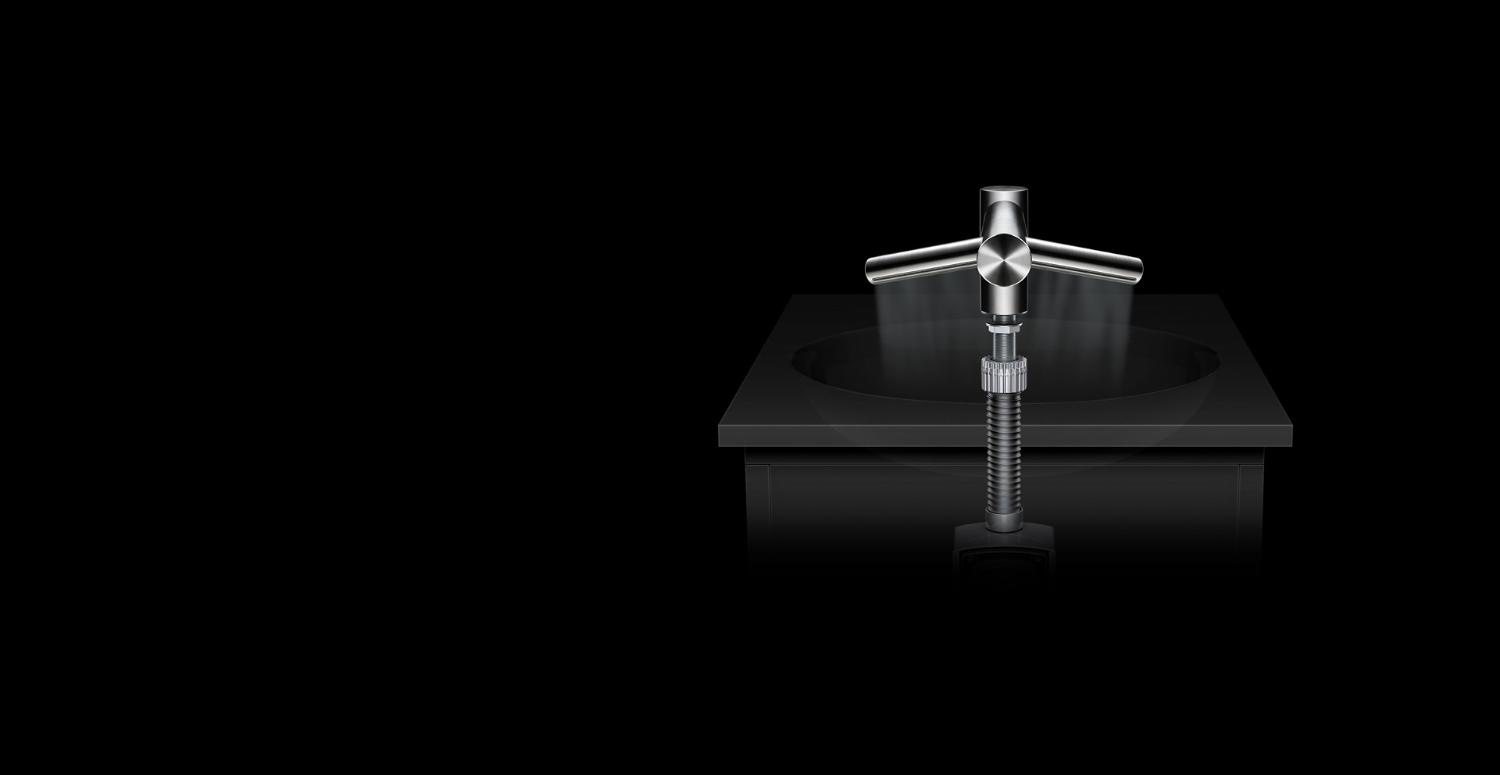 Fast. And energy-friendly.
Using Airblade? technology, sheets of high-velocity air quickly scrape water from hands. Drying hands in just 14 seconds without needing energy-hungry heating.
Airblade? technology
Clean air from the HEPA filter is forced at 341mph through apertures 0.55mm wide, scraping water from hands, quickly and hygienically.
Dries hands at 341mph with the Dyson digital motor V4
The Dyson digital motor V4 uses digital pulse technology to spin at up to 81,000rpm ? three times faster than a conventional motor. So it can draw up to 21 litres of air per second through the machine.
HEPA-filtered air
The HEPA filter captures 99.95% of particles up to 0.3 microns from the washroom air, before it's blown on to hands.
Have cleaner washrooms
With Airblade? technology in a tap, there?s no need for users to move to a separate drying area, so no water is dripped on the floor. And with the space saving Dyson Airblade Wash+Dry hand dryer, there?s room for extra toilet cubicles and other facilities.
Dry hands. In just 14 seconds
The Dyson Airblade Wash+Dry hand dryer takes just 14 seconds to dry hands. So users spend less time in your washrooms, making busy times easier to manage.
Brand
Dyson
Dyson Pakistan Official Online Store
Buy Your Favorite Dyson Appliances in Pakistan at the best prices only at PakRef.com with shipping all over Pakistan including Karachi, Lahore, Islamabad. Complete range of Dyson products that we are importing includes:
Dyson Vacuum Cleaner
You can buy the complete range of dyson vacuum cleaners in Pakistan including
cordless
and corded options. Some of the most selling models include V11, V10, V8 and V7 models. We also have filter for dyson cordless vacuum cleaners in stock as well.
Dyson Hair Care Products 
Some of the most selling dyson products include dyson airwrap, coralle hair straightener and hair dryer that has a huge demand here in Pakistan. All these products will be available exclusively at our website.
Dyson Air Purifier
Dyson Air Purifier in Pakistan are comparatively expensive than the other brands but you get what you pay for. These are some of the best air purifier and humidifiers money can buy rite now. Moreover, Some of the models like
dyson pure hot cool
comes with heat and cool option too which is great especially in winter season. You can also buy dyson air purifier filter in Pakistan.
Dyson Warranty Claim
All Dyson Products will come with the standard warranty by Dyson. However, Pakref.com will be providing the 1st year of warranty claim for free. For the remaining  period, we will be providing the service to assist in the claims but the shipping/service charges will be paid by the client.
Dyson Pre-Ordering
PakRef.com is also providing our clients the opportunity to pre-order their Dyson products in Pakistan from our website if there is a product that we do not have in stock at that very moment. We will be happy to import it for our client and will be delivered at their door steps anywhere in Pakistan. We are also working very closely with some of the leading companies in Pakistan and if there are any corporate or bulk purchasing requirements related to Dyson then we can be reached at info@pakref.com. We hope that by filling a big void of quality-oriented consumer electronic brands in Pakistan, Brands like Dyson will provide an excellent alternate for the quality oriented customers who want nothing but the best when to comes to reliability and durability.
Specifications
HEPA filter

HEPA filter as standard

Rated power

1000 W

Dry time

14⁺ sec

Bacteria removal

Captures 99.95% of particles the size of bacteria

Motor

Dyson digital motor – V4 brushless DC motor

Operation lock-out period

30 sec

Motor switching rate

5,400 per second

Motor speed

Up to 81,000 rpm

Exterior screw type

Torx T15

Operating airflow

21 l/s

Decibel level

81 dB

Standby power consumption

Less than 0.5 W

Input voltage

200-240v

Frequency

50-60 hz
Height

159 mm

Length

286 mm

Width

303 mm