Samsung 10 KG Front Load Washer and Dryer WD10N6FR2X
Add items any time
Add Wash™
Relax if you find a missing sock or need a shirt cleaned when you've already started the laundry. The Add Wash™ door lets you simply and quickly add extra items or more detergent* during a wash cycle**. You can also easily pop in hand-washed clothes that you just want to rinse or spin dry.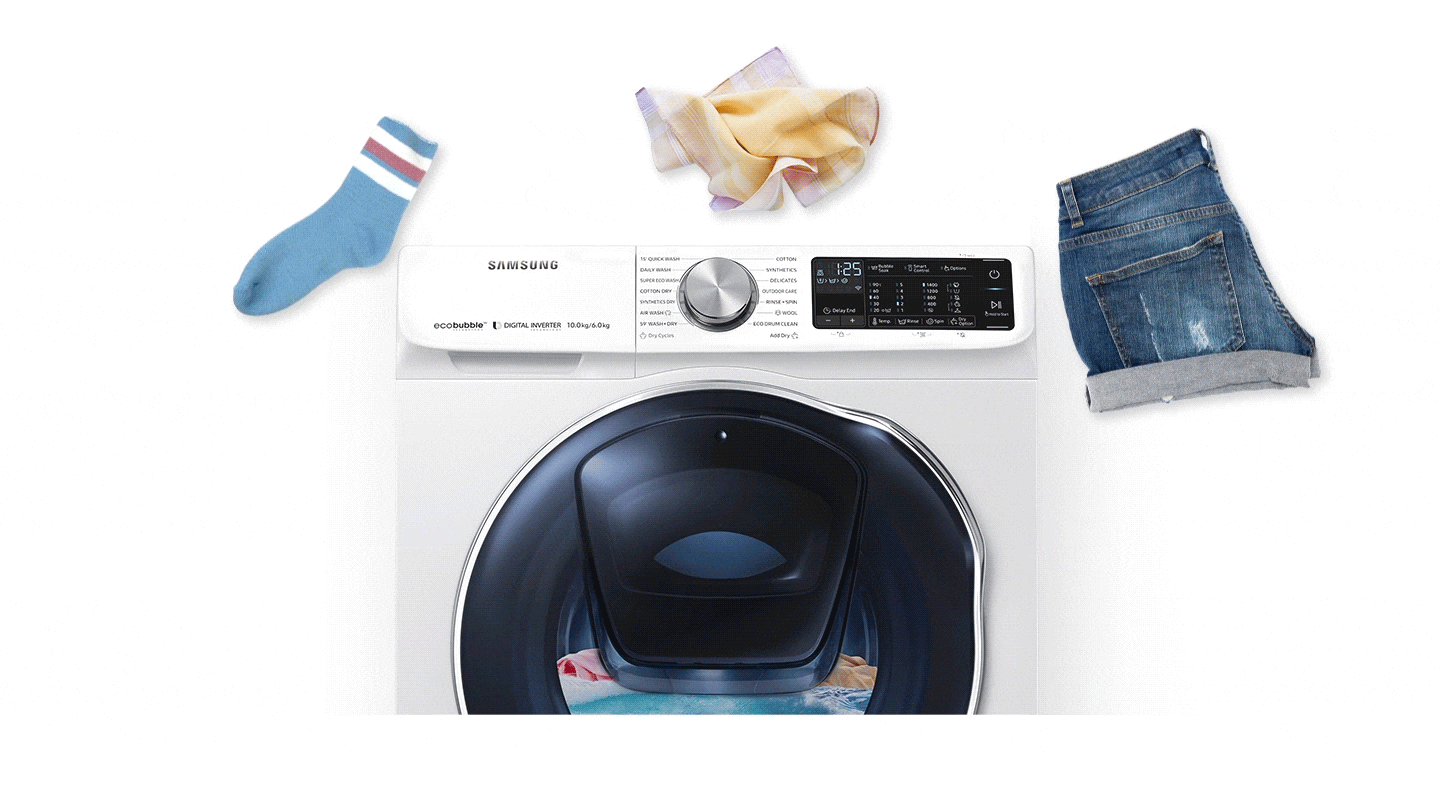 * Only fabric items, clothing, detergent and softener can be added. ** The Add Wash™ door only opens only when the drum temperature is below 50°C.
AI-powered laundry
Q-rator
Use washer more easily and effectively. The Q-rator smart management system* enhances performance using data from user interactions**. 'Laundry Recipe' recommends the best wash cycles***. 'Laundry Planner' optimizes your laundry schedule****. 'HomeCare Wizard' enables remote troubleshooting.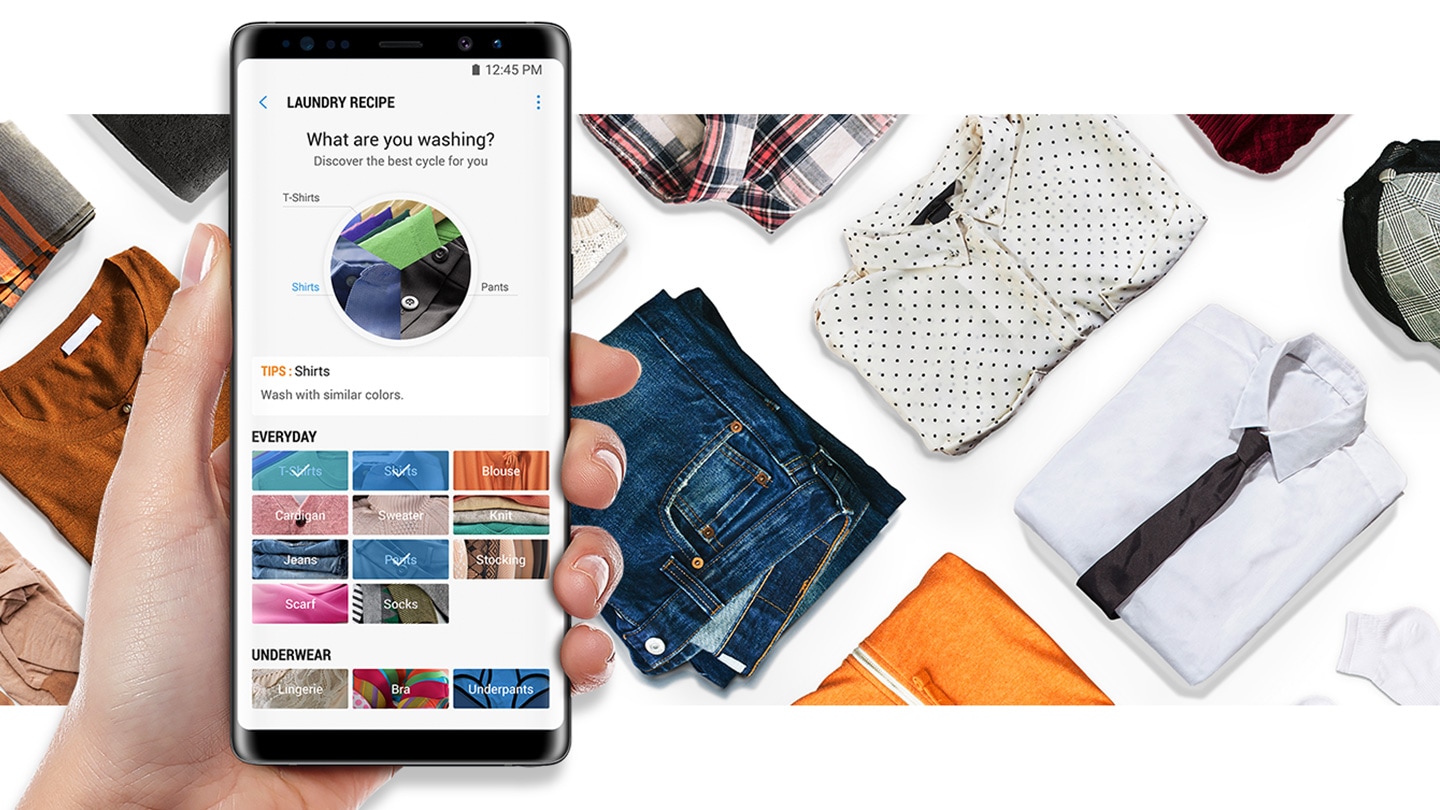 * A Samsung application account is necessary and available on Android and iOS devices. A Wi-Fi connection is required. ** Stores user data, preferences and usage patterns to suggest the most useful options. *** The user will be solely responsible for any consequence(s) that may result, including but not limited to any damage or harm caused by incorrect information provided by the user. **** The recommended washing cycle is only based on time and may not be appropriate based on the type of fabric or stain level of the articles being washed.
Fit more, less loads
Large Capacity (10kg)
Cut down on how often you have to use your washing machine – saving time, effort and water. A huge 10kg capacity lets you wash piles of laundry in a single load, and you can even include really large items.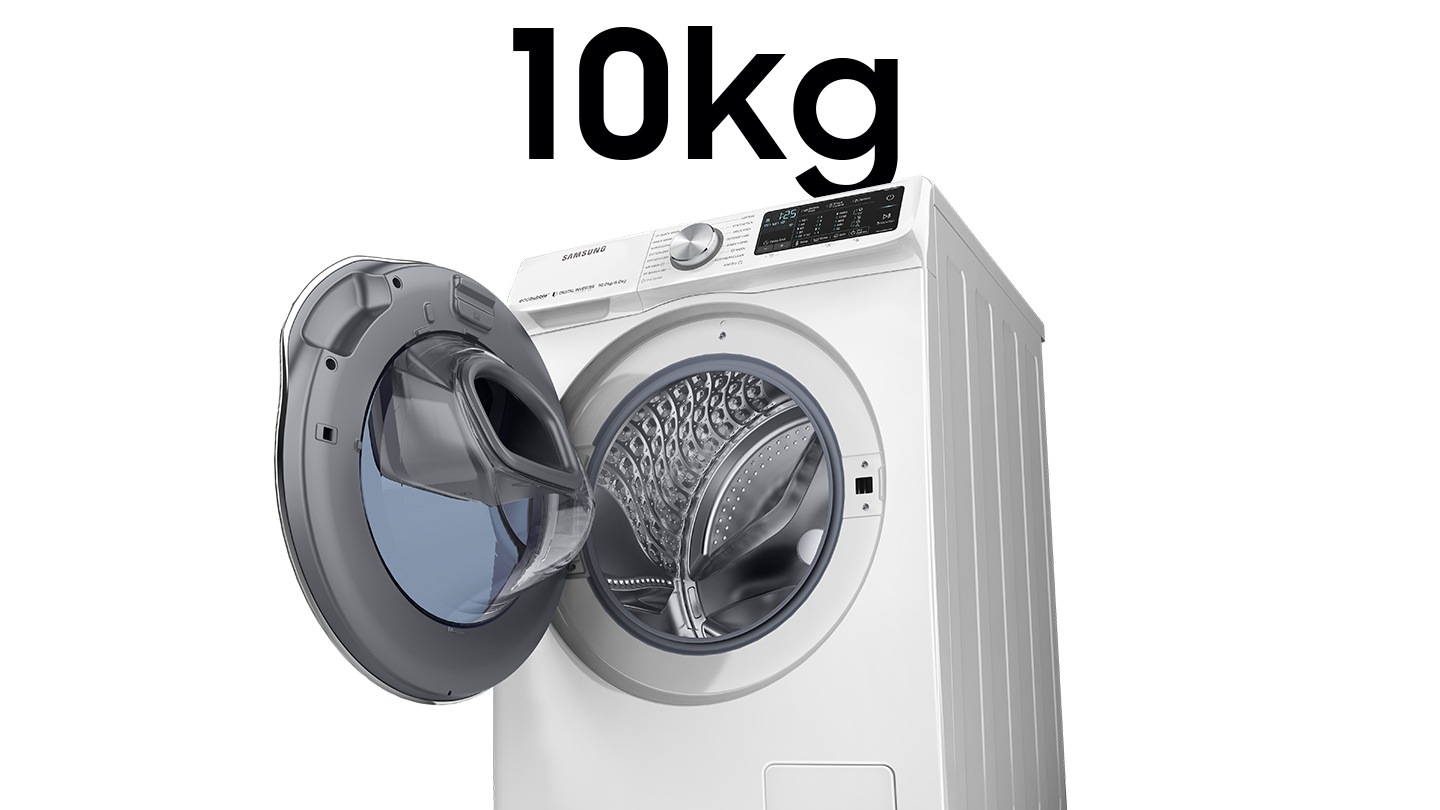 Sanitize with air
Air Wash
Keep your clothes hygienically fresh without water and detergent. Air Wash technology deodorizes and sanitizes your clothes. So they always smell fresh. Unpleasant odors as well as bacteria are removed using just heated air. There's no need for boiling or costly and potentially harmful chemicals.
Powerful bubbles
Eco Bubble™
Save money and protect your clothes. Eco Bubble™ technology ensures powerful, but gentle cleaning, even at low temperatures*. Detergent is turned into bubbles,so it quickly penetrates fabrics and removes dirt easily. It protects the color and texture of laundry items and uses less energy**.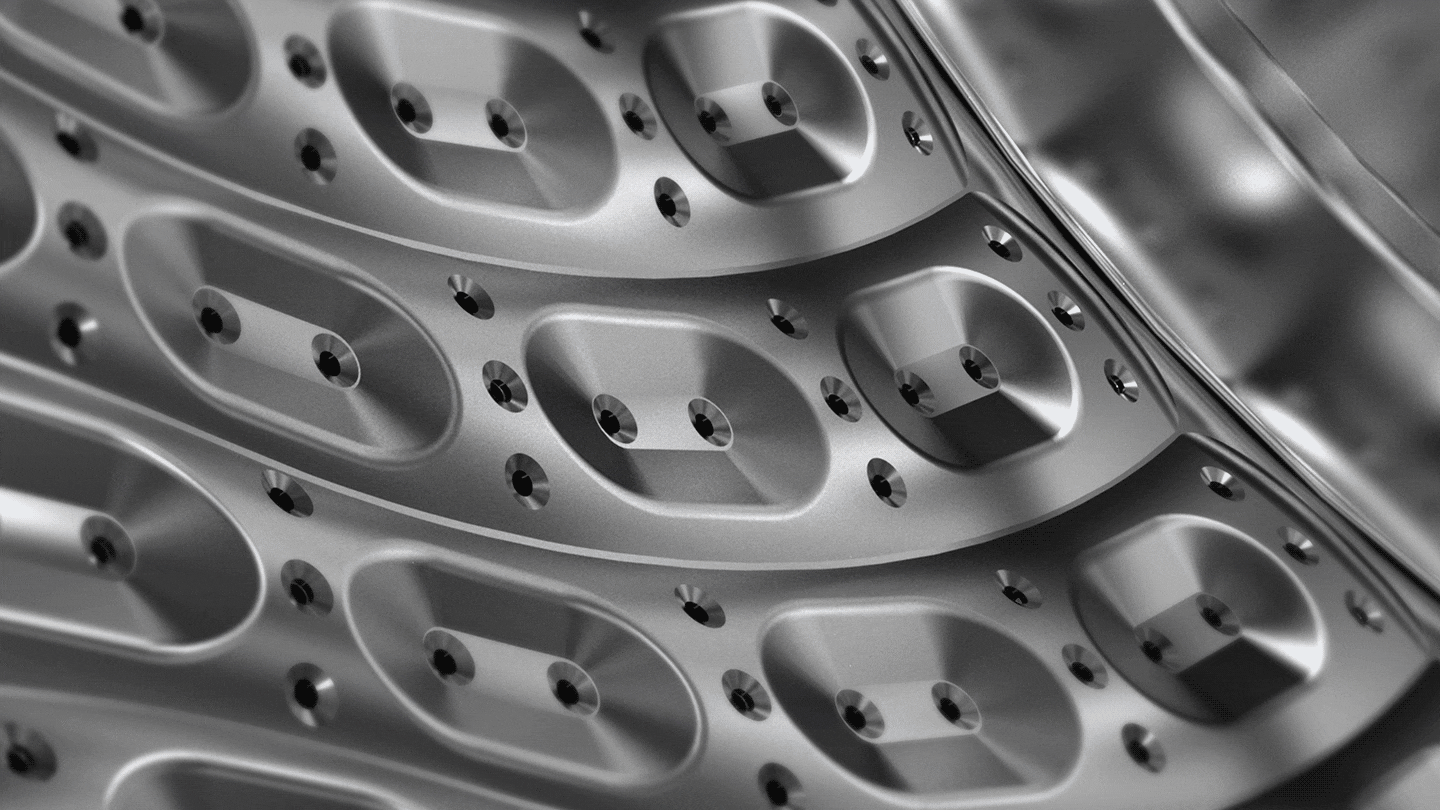 * Tested in accordance with IEC 60456-2010 / 4kg Wash Load / Super Eco Wash cold (WF80F5E5U4W) vs. Cotton 40°C without Eco Bubble (WF0702WKU). Individual results may vary. ** Based on the Performance Lab Test report by Springboard Engineering on EMPA strips, comparing a normal detergent solution and bubble technology without mechanical action.
Hygienically Clean
Hygiene Steam
Give clothes a really deep and hygienic clean with steam. A powerful Hygiene Steam cycle improves the cleaning quality of the wash. It releases steam from the bottom of the drum, so every item is thoroughly saturated. This removes engrained dirt and 99.9% of bacteria* and inactivate allergens**.
* Based on the Intertek Test report Hygiene steam course. ** Based on BAF report Hygiene steam course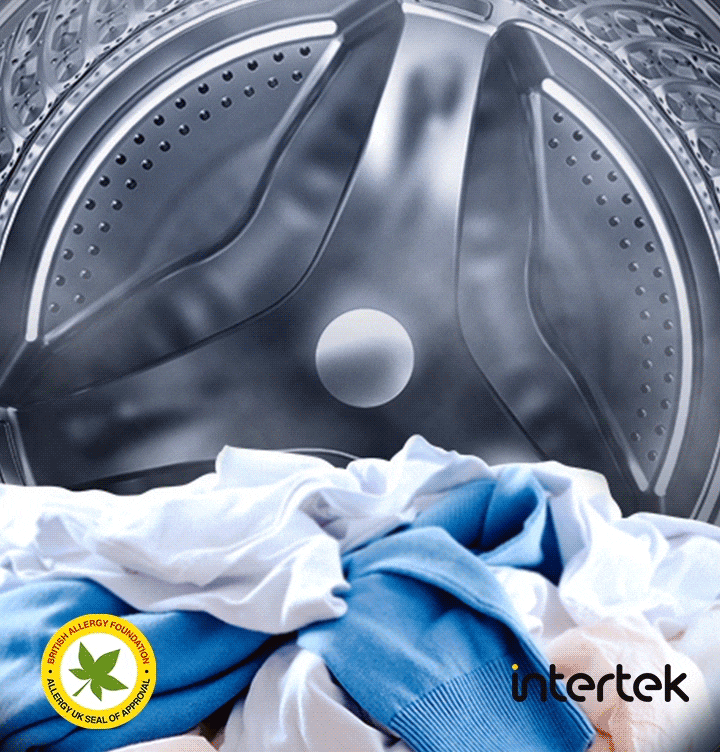 Intensive cleaning
Bubble Soak
Keep your clothes looking spotless, however dirty they get. With the touch of a button the Bubble Soak function helps remove a wide variety of stubborn stains, like blood. Clothes are thoroughly soaked in active bubbles, so any dirt and stains are loosened and can be removed much more effectively*.
* Tested in accordance with IEC 60456 5th edition / 8kg Wash Load / Bubble Soak Wash (WF80F5E5U4) vs. Cotton 40/60°C, Synthetic 60°C, and Denim 40°C without Bubble Soak (WF0702WKU).
59 minute wash & dry
59′ Wash&Dry
Get your clothes clean and ready to wear in under an hour. A 59' Wash&Dry cycle will wash, rinse and spin a small load* of lightly soiled laundry and dry everything thoroughly in just 59 minutes**. So you can use any linen or wear your garments straight away, while also saving time and energy.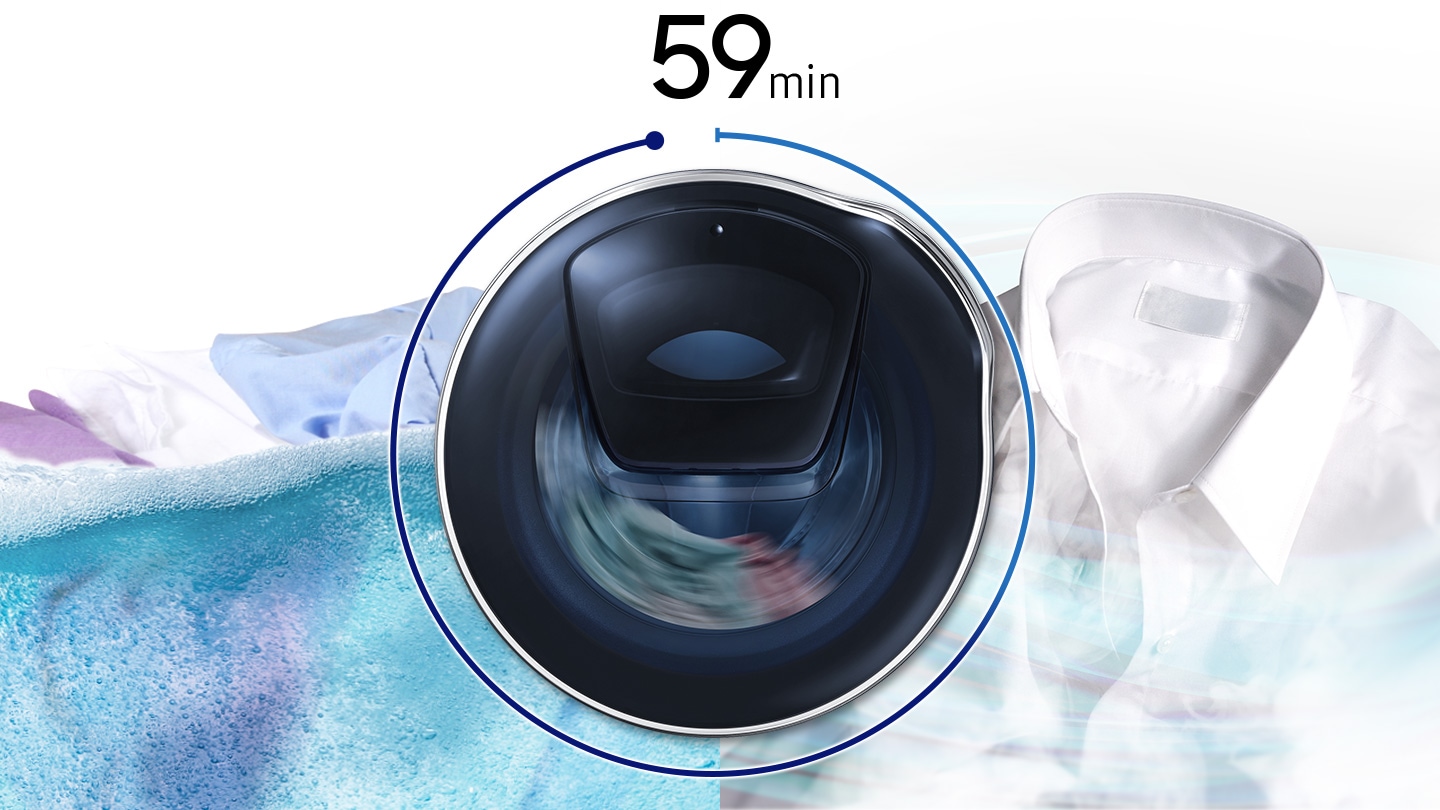 * Small loads weighing under 1kg (3-4 cotton/polyester blend shirt recommended). ** Wash time of 18 minutes plus a dry time or 41 minutes.
Keep inside clean
Eco Drum Clean
Keep your machine hygienically clean, while being eco-friendly and saving money. Eco Drum Clean removes 99.9% of odor-causing bacteria from the drum. It uses soaking, pulsating and high speed spinning, without harsh or costly detergent. It notifies you when it needs cleaning.
Less noise & energy
Digital Inverter Technology
Enjoy greater energy efficiency, less noise and a long-lasting performance. Digital Inverter Technology uses strong magnets for a quieter and more powerful performance, but consumes less energy than a Universal Motor. It provides outstanding durability*, backed-up by a 10 year warranty.
* Awarded a 23 year durability certification by the Association for Electrical, Electronic & Information Technologies in Germany (Verband Deutscher Elektrotechniker – VDE).