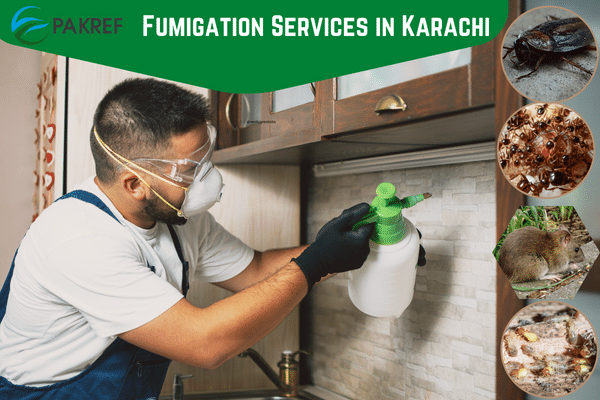 Pakref.com is a local service provider providing fumigation services in Karachi since 2020. Our residential and commercial pest control services are geared specifically towards pest control problems and safeguarding your property.
We are providing the best value when it comes to fumigation services in Karachi whether it's bed bug fumigation or any other pest control service. We are here to disrupt this market by providing excellent value to our prospective buyers. We have been working very closely with some of the experts in the Pest Control industry working in Karachi.
One of the most important areas when performing a fumigation service is the chemical being used which is usually not given a lot of attention and fumigation companies and pest control service providers in Karachi do not use high-quality fumigation chemicals and sprays which does affect the result. At Pakref.com our service teams ensure that we use the best fumigation chemicals irrespective of the cost. Our fumigation services are available for homes, offices, schools, and colleges wherever there are pests we will be there to provide the best service possible.
How Do We Perform Fumigation Services in Karachi
Our home and office fumigation services in Karachi start with a conversation with you. We want to hear about any pest problems you have seen and we will explain our treatment process to you. We typically begin with an interior treatment of your home and treating areas where pests try to hide. We may also conduct a spot treatment if required depending on the type of pest we see.
We pay particular attention to doors, windows, and entry ways as these areas are where mice, ants, cockroaches, and other common nuisance pests gain entry into your house. Like humans, insects need food water, and shelter to survive so we inspect and treat bathrooms, kitchens, under sinks, and any other areas where the pests might be hiding.
Once we are finished with the interior we might start with exterior services and conduct an exterior inspection if necessary looking for areas where pests may gain entry into your home. Often times it's a crack near your window where we apply the caulk in order to block pests from gaining entry into your house. Last we finish the most important part of the treatment which is the exterior application. The purpose of this application is not only controlled pest outside but also to prevent pest problems from arising inside your home, to begin with. To finish the exterior portion of our treatment we conduct a final round to treat around doors, windows, and entryways in order to control persistent areas where pests love to go. Lastly, we finish our service by checking with you and how the treatment went and how much satisfied are you. We will also share tips to prevent these pest problems from arising again.
Why Choose Pakref.com
Continuous Research: We have always tried to adapt the latest protocols and standards in the pest control and fumigation services industry in Pakistan with a continuous learning approach.
Working closely with Experts: Pakref.com has been collaborating with some of the most experienced pest control and fumigation services provider and Ph.D.'s in Pakistan to provide our prospective buyers with nothing but the best fumigation services in Karachi
Following up with Customers: We have always followed up with our clients to know exactly how effective was the treatment and how satisfied they have been with our service.
1 Month Warranty: We also provide a 1-month warranty for the services that we offer to our customers and if required we do a reinspection of the site if the results are not as per the protocol.
Listening to our Customers: One of the biggest differences from the rest of the fumigation service providers is that we listen to our customer's pre and post-fumigation treatment to know how the fumigation and pest control services were executed and the effectiveness of the fumigation service. This really helps us to understand the effectiveness of the treatment and the improvisations needed if required.
Our Services:
Container Fumigation
Mosquito Control