Dyson is considered to be the Ferrari of vacuum cleaners and for the first time, Dyson Vacuum Cleaners are now available in Pakistan. Consumers in Pakistan don't have a lot of options to chose from specially when we look at vacuum cleaners. Due to high customs duties and other tariffs, Manufacturers and Retailers don't opt for vacuum cleaners that are too expensive or don't have demand here. However, there is a market here and prospective consumers in Pakistan are willing to buy quality-oriented equipment especially cordless, handheld, stick as well as robot vacuum cleaners.
Gone are the days when corded vacuum cleaners were required to clean the house effectively. Cordless Vacuum cleaners are the future and they offer the same level of suction power, performance, durability and value that we previously were getting from corded vacuum cleaners. Moreover, the vacuum cleaners are now getting smaller, efficient and are also much easier to maintain than corded vacuum cleaners.
In Pakistan, Pakref.com is one of the first online e-commerce websites to offer Dyson Vacuum Cleaners in Pakistan for its customers. We have ready stock and those units that are not available can be ordered. Moreover, We will also offer a 1 year warranty on Dyson Vacuum Cleaners in Pakistan.
We have ranked some of the best vacuum cleaners Dyson offers to their customers including Cordless, Upright, Handheld and Cylinder Vacuum Cleaners which will also be available in Pakistan.
Best Dyson Vacuum Cleaners in Pakistan
Dyson V11 Absolute

Dyson V10 Cyclone Absolute

Dyson V8 Series Absolute & Total Clean

Dyson V7 Motorhead Extra

Dyson V6 Vacuum Cleaner (Cordless)

Dyson V6 DC58 Car and Boat Handheld Vacuum Cleaner
1. Dyson V11 Absolute Cordless Vacuum Cleaner
The Best Vacuum Cleaner Money Can Buy 
Dyson V11 Absolute is the latest and greatest flagship cordless vacuum cleaner which is a complete game changer and has set a new benchmark for the rest of the competition. It has unmatched and unparalleled specifications with the other manufacturers which means that it will work longer, cleans much faster and is definitely quieter.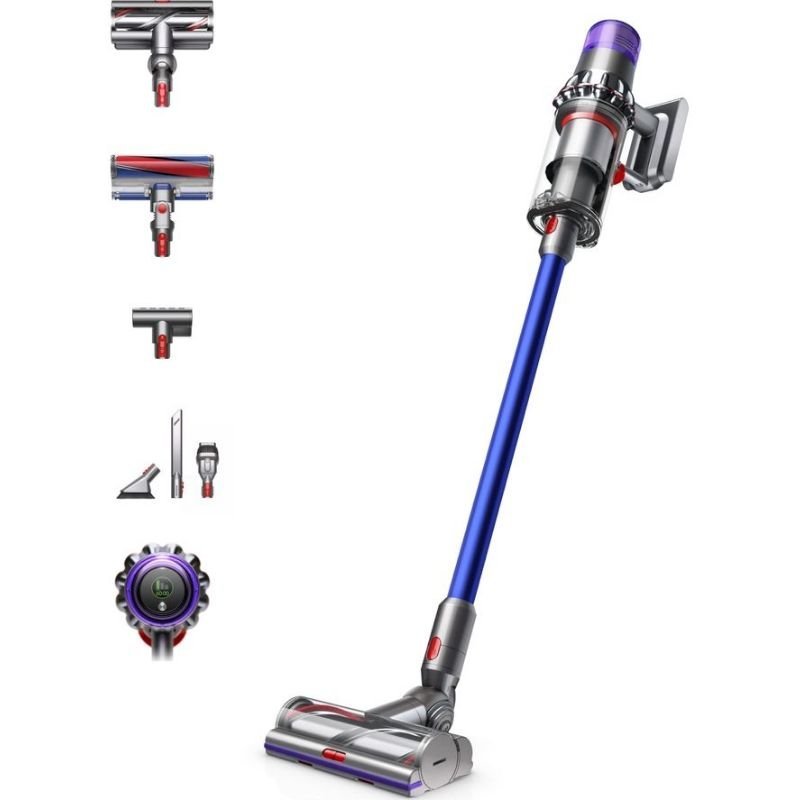 Dyson V11 has 3 different power modes which really helps the user to select the modes according to their usage. Eco Mode is ideal for long sessions but its suction is not very powerful. Boost Mode provides the user with the most suction power almost 5 times more. However, it will last for only 12 minutes so you really need to know what you are cleaning. Auto Mode is the best mode and is the most used by consumers due to the sensing of the motor which then adapts to the power level depending on the floor types. Dyson V11 is also equipped with an LCD screen which tells you the battery status and any errors if anything goes south.
The V11 doesn't come cheap but if you want nothing but the best than this has to be not only Dyson's best vacuum cleaner in Pakistan but all over the planet.
2. Dyson V10 Cyclone Absolute
Dyson V10 Cyclone Absolute is also a good choice considering the features it offers. Although there are a few features that you won't see in Dyson V10 which includes the digital display, automatic sensor that adjusts the power automatically depending on the floor type. However, V10 Absolute run time and dirt capacity is just as good as Dyson V11 Absolute.
Dyson V10 Absolute provides better value especially considering the cost and if you can live without some of the features offered in V11 Absolute then V10 Absolute might be something that you want to look for.
3. Dyson V8 Series Absolute & Total Clean Vacuum
The Most Versatile Cordless Vacuum Cleaner In Terms Of Price and Performance
Dyson V8 Vacuum Cleaner is one of the most successful cordless vacuum cleaners ever produced by Dyson. Dyson V8 Total Clean and Absolute models provide amazing cleaning performance on hard floor and carpet due to the soft roller and direct drive cleaning heads that comes with both the models. We also cannot ignore the 40 minute time which is available in all Dyson V8 Cordless Stick Vacuum Cleaners. There are also improvements made in the design to make it much easier for the consumer to empty the bin without any hassle.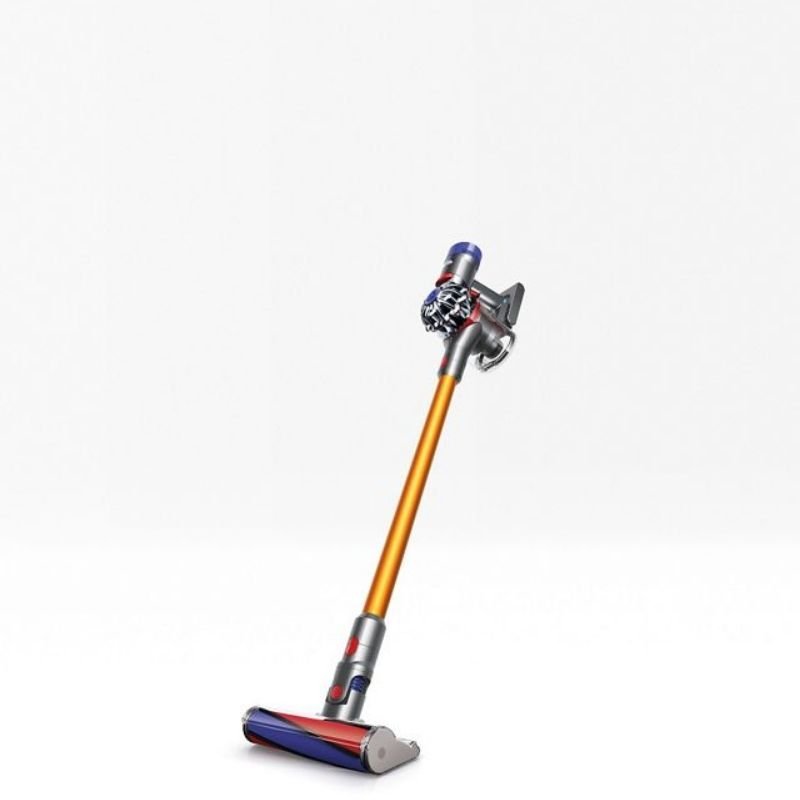 V8 Absolute and Total Clean are the most high-end options due to the additional accessories that come with it. However, Dyson V8 Total Clean comes with two additional accessories for cleaning areas that are very high and places where standard service tools might not be able to go or clean.
4. Dyson V7 Cordless Stick Vaccum Cleaner
Dyson V7 is a cordless stick vacuum cleaner that can also be converted into a handheld vacuum cleaner. Dyson has made some nice improvements from the previous V6 model by incorporating a better battery which has longer run time and more power.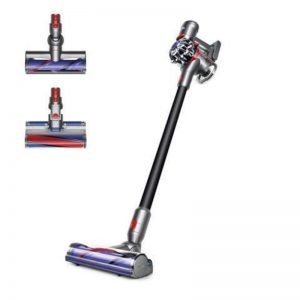 Dyson V7 comes in three different variants including Absolute, Total Clean, Motor Head Extra and Animal. However, the specifications are pretty much the same on all the models. The only difference is the parts and accessories that come with them.
The Dyson V7 has been in the market for some time now but is still one of the best cordless stick vacuum cleaners you can buy. Very few cordless vacuum cleaners will have this kind of power, 30 minutes run time and a lot of cleaning attachments. Its definitely a very good option especially considering the features and quality it has to offer and not to forget the performance on carpet and floors.
5. Dyson V6 Cordless Stick Vacuum Cleaner
Dyson V6 has to be one of the most affordable cordless stick vacuum cleaners you can buy in Pakistan.  The Dyson V6 performs exceptionally well and is definitely considered to be at par with the most upgraded Dyson cordless stick vacuum cleaners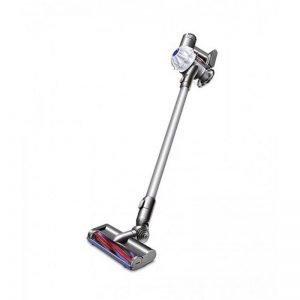 Dyson V6 has two power modes which really help if you want more suction power. However, it will last no more than 20 minutes on a single charge. Therefore, it will be suited for people with smaller homes and flats.
The biggest point of differentiation of Dyson V6 is its price and it's definitely safe to say that it is definitely a great bargain considering the performance that you get out of this machine.